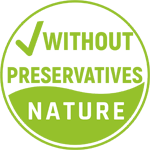 WHAT ARE THE ADVANTAGES OF THE HIGH PRESSURE PROCESSING - HPP?
INCREASED USEFUL LIFE
After the treatment, a 2-3 times higher increase of the foods useful life is obtained, depending on each product. This results in a significant reduction of the number of commercial "returns".
NUTRITIONAL VALUE
The product processing is executed in cold, so that it preserves all of its nutritional properties maintaining the savour.
CLEAN LABELS
The treatment helps in the reduction of food additives (chemical preservatives). Ideal with the European guidelines of the "E" reduction.
FOOD SAFETY
The HPP produce an inactivation of pathogenic microorganisms (Salmonella y Listeria) and alterant microorganisms which are responsible for the products expiration.